Video Description
Consultant Dermatologists Nisith Sheth and Anjali Mahto outline the common causes of skin pigmentation conditions such as age spots and sun spots, and explain the different treatment options.
Cedars Dermatology Clinic are a leading group skin and dermatology specialists based in Central London. Cedars offers comprehensive medical, surgical and cosmetic dermatology care. They are specialists in dealing with moles, skin cancers, acne, rosacea, psoriasis, eczema and other skin conditions for both adults and children.
3:46
Channel
:
Cedars Dermatology Clinic London
Playlist
:
ALL
At Cedars we very often see patients who wish to address their concerns about the pigmentation of their skin. The skin producing an excess of pigment in areas anywhere on the body can lead to patches of uneven complexion and skin tone. Highly visible conditions affecting the skin like this, especially those which will remain in place unless treated, can cause considerable self-consciousness and emotional distress.
At Cedars we understand these impacts on your well-being and will work with you to offer the best treatment from our range together with the most careful psychological support in dealing with every aspect. There are various different underlying causes for such localised excess pigmentation, which is more common in the facial area. So, despite superficial similarities, there are actually different conditions that require different approaches to treatment. The most common pigmentation conditions we see are age spots and melasma.
Age spots develop as part of natural ageing process in both men and women but are more usually a consequence of sun damage and so often are also known as sun spots. They can occur in patches or scattered and are not typically symmetrical. Although they are not usually harmful, in some cases they may represent something more serious. A consultant dermatologist at Cedars will be able to diagnose this for you. More often, though, our patients wish to have them removed for aesthetic reasons. Age spots respond to retinoid creams that stimulate new cell formation on the skin surface to replace the hyperpigmented areas. Cedars also offers sophisticated laser treatments. The laser light is tuned into a particular colour that passes through the skin but is selectively absorbed by the skin pigment, breaking it up. The process isn't particularly painful, it will feel like a hot prickling sensation, but the area maybe a little sensitive afterwards. It will shortly form a scab, which will fall off in a week or two. It needs no dressing or special attention, but avoid picking at it, and sun avoidance is very important for four to six weeks.
Melasma is different in several key ways from age spots. It is usually symmetrical and appears as brown or greyish patches, mainly on facial skin – the forehead, cheeks, chin and upper lip. These can be quite densely pigmented. Melasma is much more common in women than men and is generally worse during the summer, improving during the winter. We don't know its precise causes but hormonal factors such as pregnancy, oral contraceptives and hormone replacement therapy can be triggers. Avoiding these where possible can lessen the impact of melasma. It can also benefit from topical treatments that prevent new pigment formation, such as hydroquinone, as well as techniques aimed at removing the pigment layers from the skin directly, such as chemical peels and micro-needling. Lasers are also effective in treating melasma, although that requires much greater skill. Cedars dermatologists all have a great deal of expert training with and considerable experience in the use of such lasers, which ensures the treatment we offer you is safe and world-class. As both melasma and age spots are exacerbated by sun exposure, however, we once again urge sufferers to be diligent in using broad-spectrum sun-cream. Very recent research also suggests that visible light can induce pigmentation and dark skin types, so individuals may benefit from using sun-cream that also blocks it. Prevention is always better than treatment, of course, but for any of your needs in dealing with hyperpigmentation, you're in safe hands with Cedars. We will always tailor your treatment plan specifically to you, your lifestyle and your needs.
read more
view less
---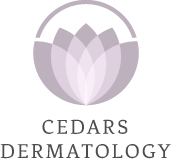 Cedars Dermatology Clinic
Cedars Dermatology Clinic are a leading group skin and dermatology specialists based in Central London. Cedars offers comprehensive medical, surgical and cosmetic dermatology care. They are specialists in dealing with moles, skin cancers, acne, rosacea, psoriasis, eczema and other skin conditions for both adults and children. Read full bio view less