Video Description
Dermatologists Nisith Sheth and Anjali Mahto explore the ageing process, how it affects everyone's appearance over time and ways to combat it if there are things you are unhappy about.
Cedars Dermatology Clinic are a leading group skin and dermatology specialists based in Central London. Cedars offers comprehensive medical, surgical and cosmetic dermatology care. They are specialists in dealing with moles, skin cancers, acne, rosacea, psoriasis, eczema and other skin conditions for both adults and children.
5:13
Channel
:
Cedars Dermatology Clinic London
Playlist
:
Ageing
Ageing is a completely natural process we all go through. Many individuals are comfortable with the changes it brings on, and nothing needs to be done about it, but on the other hand, a large number of people feel that their outward appearance does not match the person they are on the inside. You may therefore want to know what can be done to address these concerns. As we age, a number of processes occur that affect the appearance of the skin. Fine lines and wrinkles develop, some due to sun damage and others due to frowning or smiling, for example. As we age we also lose collagen, the protein that gives structure to skin, leaving it less elastic. And then there's a loss of volume with the fat pads and bone to support the skin both becoming thinner. The outcome is that as the skin ages, it loses its firmness and definition and can sag. In addition, skin can become uneven in texture and pigmentation.
At Cedars we offer a range of cosmetic treatments that can combat the signs of ageing in the skin. You've probably heard of botulinum toxin injections. About 25 years ago it was discovered by a British dermatologist that when injected in carefully controlled doses it works to relax the muscles in the target area. Since then it's been used to reduce and soften fine lines and wrinkles.
Muscle relaxing injections are commonly used to improve the eyes, forehead and lips and can help with jawline definition. Improvements can usually be seen in three to five days, but may take a fortnight to reach full effect, but the results will last for 2-3 months after treatment.
You may be aware that dermal fillers are used to enhance the lips but they are also injected under the skin of the face to adjust the volume loss from ageing and scarring, and for facial contouring. The injectable filler is a water-based gel of which the key ingredient is usually a substance called hyaluronic acid. Hyaluronic acid is found in all living organisms and is a key part of the support medium that exists between the cells in our bodies. The non-allergenic synthetically produced hyaluronic acid gel we use replaces some of the skin support and volume that is lost over time. This helps to even out lines, especially the smile lines that run from the nose to the side of the mouth, and makes the skin firmer. It can be used to give volume to the lips as well. The effects are immediate, although there can be mild swelling for a few days after the procedure. Once the skin then evens out, the results last for between six and 18 months, depending on the product used.
Cedars' cosmetic dermatology service also offers several more generalised skin rejuvenation procedures. These stimulate the body's own repair mechanisms to improve the condition and appearance of the skin. These include chemical peels and micro-needling as well as laser treatments, which we'll talk about in a later video. A chemical peel is typically employed to counteract sun damage, mild scarring as might be caused by acne, or skin discolouration. Chemical agents are applied directly to the skin of the face, neck and hands. This helps to wear away the damaged surface in the target area. This half-hour procedure may sting a little but it's not too uncomfortable and no anaesthetic should be required. A few days later the skin will peel away revealing new skin surface growth underneath that is smoother, more even in tone, brighter in complexion and ultimately younger looking. Good results can be achieved after only one peel, although most patients will benefit from repeated applications.
Micro-needling improves skin texture, scars, fine lines and stretch marks. It's carried out with a device that rolls across the skin, uniformly applying tiny punctures to its surface with small sterile needles. These tiny wounds stimulate a heal-and-repair response in the skin, which stimulates the production of new collagen – a key structural support protein in skin. Although the technique is minimally invasive, local anaesthetic is usually applied to ensure it's not painful. The effects of micro-needling are gradual. It usually takes two to three treatments, separated by four to six weeks, to achieve the best results.
If you decide you wish to undergo any cosmetic dermatology procedures, I cannot stress enough how essential is to visit a highly trained and skilled specialist, such as a consultant dermatologist or plastic surgeon. Injectable treatments in particular require expert understanding of the structure, nerve and blood supply of the face and neck. Good outcomes to any of these procedures depend on the aptitude of the practitioner, and dermatologists' advanced medical training ensures all are carried out safely, correctly and effectively. Each of Cedars' dermatologists have many, many years of expert training and clinical experience in medicine and the procedures offers. Before any treatment is undertaken we will carry out a consultation to discuss with you what each involves and we'll advise which is best for you. At Cedars we pride ourselves on achieving results that look natural, organic and that you, our patients, are delighted to see.
read more
view less
---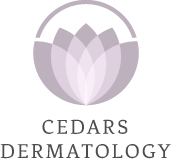 Cedars Dermatology Clinic
Cedars Dermatology Clinic are a leading group skin and dermatology specialists based in Central London. Cedars offers comprehensive medical, surgical and cosmetic dermatology care. They are specialists in dealing with moles, skin cancers, acne, rosacea, psoriasis, eczema and other skin conditions for both adults and children. Read full bio view less