Video Description
Consultant Dermatologists Nisith Sheth and Anjali Mahto outline the symptoms and effects of acne in both young people and adults, and explain the treatment options available.
Cedars Dermatology Clinic are a leading group skin and dermatology specialists based in Central London. Cedars offers comprehensive medical, surgical and cosmetic dermatology care. They are specialists in dealing with moles, skin cancers, acne, rosacea, psoriasis, eczema and other skin conditions for both adults and children.
3:29
Channel
:
Cedars Dermatology Clinic London
Playlist
:
Acne
[What is acne?]
Acne is a very common skin problem that most people have probably suffered at some point in their lives. It can show up as a few spots on the face, neck, back or chest but, in severe cases, can cause deep scarring in the skin. Sadly, though, it can be mentally scarring too. Severe acne, especially on the face, can obviously have a massive impact on self-esteem and self-confidence. It can really limit how you enjoy your life and, having personally suffered from acne since the age of 12, I know only too well how distressing its effects are. But it can be treated, and the key point is that if you're suffering from it, it's really important to seek professional help as early as possible to prevent permanent scarring.
[Who gets acne?]
Acne is not just a teenage problem. Although it usually begins during puberty, it can actually occur at any age, sometimes developing for the first time in people in their 20s or 30s. In fact, cases of adult acne are becoming much more common, although we don't know as yet why this is.
There are multiple causes of acne, including genetics, hormonal factors, lifestyle and diet. For example, there's emerging evidence that an excess of refined carbohydrates in your diet can promote acne, and some body building supplements can also contain hormones that contribute. It's a pretty complex picture and the key point is that every person's circumstances are unique. So at Cedars we tailor each treatment plan to you and your individual requirements.
[What can I do to combat acne?]
There is a wide range of treatments for acne. These include creams and gels, antibiotics, hormonal therapies and isotretinoin. Alongside these are non-medicinal approaches, including light and laser treatments and chemical peels. For most people with mild cases of acne, over-the-counter medications such as benzoyl peroxide can be adequate. However, for more complex and stubborn cases, your consultant dermatologist has the expertise to determine the best treatment for you and your skin type.
We at Cedars we have access to the fully comprehensive suite of cutting-edge treatments. Our dermatologists are leaders in providing the innovative combinations that will best combat your acne.
[Are the treatments anything to worry about?]
Now, you may be worried about using some stronger acne treatments such as antibiotics or Accutane, but these medications in the expert hands of a consultant dermatologist can be highly effective in treating acne with minimal potential side effects.
We at Cedars take a holistic approach to the well-being of our patients, and our team partners with allied health professionals such as psychologists to offer the full spectrum of support.
[Can I improve acne scarring on my skin?]
The scarring that may be left behind by acne can be as distressing as the acne itself and many people believe there's nothing that can be done about it. However, there are many different treatments that can improve the scarring, including chemical peels, micro-needling, laser treatment and surgery. So if you suffer from acne don't suffer in silence. You have plenty of options to combat it. Our dermatological expertise at Cedars is world class and we're here to help you be happy again with your skin.
read more
view less
---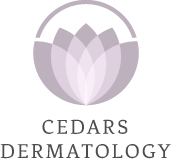 Cedars Dermatology Clinic
Cedars Dermatology Clinic are a leading group skin and dermatology specialists based in Central London. Cedars offers comprehensive medical, surgical and cosmetic dermatology care. They are specialists in dealing with moles, skin cancers, acne, rosacea, psoriasis, eczema and other skin conditions for both adults and children. Read full bio view less